HOUSE COST CALCULATOR
If you like these cost calculators you can click on the Facebook like icon on the home page. This will give you the most up to date calculators.
Completely price your home accurately to make sure you can complete it within your budget.
Cost calculators are a great way to plan your project before you start spending money
Many beautifully designed homes have never been built because when it came time to construct the costs were way over budget. This meant scrapping the design and starting again.
This calculator will help you determine what size of home you can actually afford to build.
Based on your design requirements this calculator will present the various options available to you. Once this has been done you can then make an informed decision on which way to proceed.
Some clients have decided to owner build at this point. This is no problem as we can help you every step of the way.
For more information on how to use these calculators go to resources.
Basic Budget Calculator (1004) click here
HOUSE DETAILED COST CALCULATOR
This calculator will give the most accurate cost of your home. All the stages of construction are broken into pieces so you can accurately determine your cost. This is going to take you some time but it will be worth it.
I have given you a current 2013 building estimate for a 2 storey solar passive home I have just completed for a client. You can use this as a guide to help you get yours right.
Here is a quick view of what you will get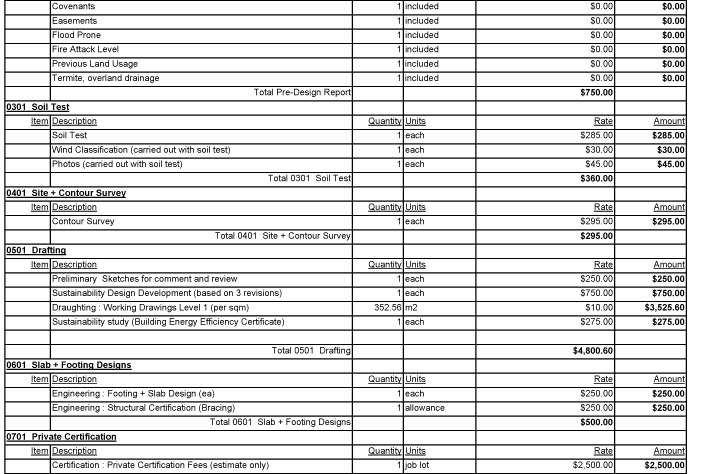 January 2017 Detailed Cost Calculator (2892)
Other detailed cost estimates I have recently performed:
Single storey straw bale slab on ground 

click here

Single storey straw bale elevated platform

click here

Single storey renovation using AAC

click here

Double storey full masonry and suspended concrete

click here

Double storey and rear addition with renovation

click here
SUBCONTRACTOR QUOTE CALCULATOR & SPREADSHEET
This calculator actually keeps track of all your quotes for your project. Using a spreadsheet you can quickly see what quotes have covered all the work. Also you get a comparison spreadsheet with other quotes you have received.
This spreadsheet then compares the prices to your original budget to make sure things are on track. You will never be unsure of what work has been included in a trade price.
Download Interactive Spreadsheet
Click here to see how to use the spreadsheet comparison
or PDF Download user guide How to use your spreadsheet